Greer Meadow Lakes is private property and not open to the public. It is however open to experienced and qualified fly fisherman or fisherman with a qualified guide.
This is a fee based service and not a free service. We offer the best fly fishing in Arizona with easy access to the water. We invested heavily in the land, fish, food, power, and many other costs to provide this environment. You will need to pay to enjoy these waters. We will need to buy more fish, food, etc to keep this open.
we are located off State Route 373 Greer, Arizona 85927
These lakes can only be accessed by reservation. Please call (928) 735-7540 to be on the list. Privately owned property, lakes and fish. Separate entity from Lazy Trout, Lazy Trout Market and Lazy Trout Cabin Rentals.
Don't know how to fly fish? We will be happy to contact you to an expert.

Stocked 11-15-2016
1200 lbs rainbow
Constant strikes
Private Ponds
Fly Fishing
Trophy Fish
Catch and Release
8 Persons at a time
Cool weather
$25.00 Half Day
$45.00 Full Day
Greer, Arizona at it's 8500 feet elevation and located in Northeastern Arizona. We are in an area known as The White Mountains and only 12 miles from Sunrise Ski Resort. We are in a small pocket of private land surrounded by National Forest land. We worked hard to make this a true fisherman's paradise created by avid fishermen. Now this area has an
alternative to the heavy fished lakes in this White Mountain area.
Greer Meadow Lakes offers 3 one acre lakes for catch and release fly fishing
with only artificial flies and barb-less hooks.

By practicing this type of fly fishing creates large trout because these fantastic
fish are placed back in the water and allows the trout to grow even larger. We
are utilizing green power for this fish farm by using windmills to aerate these
fine waters. We allow up to 8 fly fisherman at one time to keep this area from overcrowding. For larger parties we will rent out the entire 10 acre site.


Come and enjoy your family at this amazing place.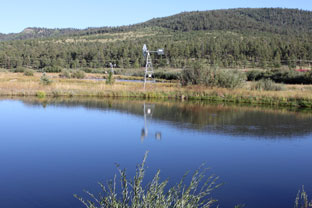 We use wind power as much a possible to help aerate the ponds and keep water healthy for the trout. In the summer time we also need to run electric aerators to keep the oxygen at good levels for the trout to remain healthy.

Professional guides are available to teach you the art of fly fishing. We have several patient guides for additional fees.
One of the best ways to teach young people to respect the living fish and to keep it alive is quite rewarding for your kids.